The SAES Getters Group
Pioneering the development of the getter technology, the SAES Getters Group is the world leader in a variety of scientific and industrial applications where stringent vacuum conditions or ultra high pure gases are required.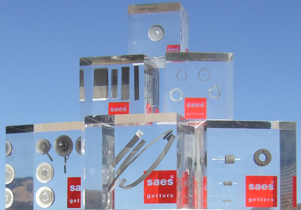 For the last sixty years, our getter solutions have been fostering and supporting technological innovation in the information display and lamp industries, in ultra high vacuum systems, in a wide range of electronic device-based applications, and in the vacuum thermal insulation.
The Group also delivers solutions for ultra high purity gas handling to the semiconductor, LED, Flat Panel Display, Fiber Optics and other emerging markets.
A total production capacity distributed at 9 manufacturing plants spanning across 3 continents, a worldwide-based sales and service network, nearly 900 employees allow the Group to combine multicultural resources, skills and expertise to form a truly global enterprise, capable to best support customers around the world, 24 hours a day.
SAES Getters has been listed on the Italian Stock Exchange Market since 1986.
Find out more about our technologies, products, past achievements and future directions by downloading the SAES Getters corporate brochure.
If you are interested in finding out more about SAES Getters latest Inovations, Products, and Services please visit: www.saesgetters.com